Vegan Café Gets Slice of $1.4 Million in Mission Grant Money
An increasingly popular "urban center of influence" in Maine intends to hire a chef and expand its working hours.
A vegan enthusiast was thrilled after she and a companion made an extra effort to find a Seventh-day Adventist-owned café in the U.S. state of Maine for an "incredibly delicious" lunch in fall 2017.
"We went out of our way to eat lunch at the Olive Branch while hauling a travel trailer, and both throughout and after our experience we raved about how happy we were that we made the effort to find the café," the reviewer, Sarah P., wrote on Happy Cow, a popular online service for healthy food.
"Lots of local people came in for lunch, many ordered sandwiches, or just had soup," she wrote. "It seemed like people knew each other, and there was a very friendly vibe as we were invited into conversation."
Sarah, who describes herself as agnostic on her profile, had only one complaint: the total vegetarian café is only open for lunch.
That is set to change. The Olive Branch will receive a slice of U.S.$1.4 million in grant money that Adventist Mission approved for international projects in December 2017. Its portion of the money will be used to hire a chef and expand its working hours, said Scott Christiansen, evangelist and communication director for the Seventh-day Adventist Church's Northern New England Conference, whose territory includes Maine.
"The Olive Branch started on a shoestring and succeeded by dint of volunteer effort and grit," Christiansen said. "But to be open for more than just lunch — and to be able to achieve the goal of supporting outreach activities — the Olive Branch needed an infusion of capital to hire a chef and to strengthen some ministry activities. The grant allows the Olive Branch to make this important leap."
The café is among the "urban centers of influence" that the Adventist world church's Mission Board Strategy and Funding Committee approved for $1.4 million in Global Mission funding on Dec. 6. Other recipients include a health center with a dental clinic in Bishkek, Kyrgyzstan, and a community education center with healthy cooking classes, language classes, clothing charity services, and job training in Yekaterinburg, Russia.
The projects aim to provide physical and spiritual healing to their communities and to lay the groundwork to plant new churches, Adventist Mission leaders said.
Story continues below
Read Adventist Mission Approves $1 Million to Plant 322 Churches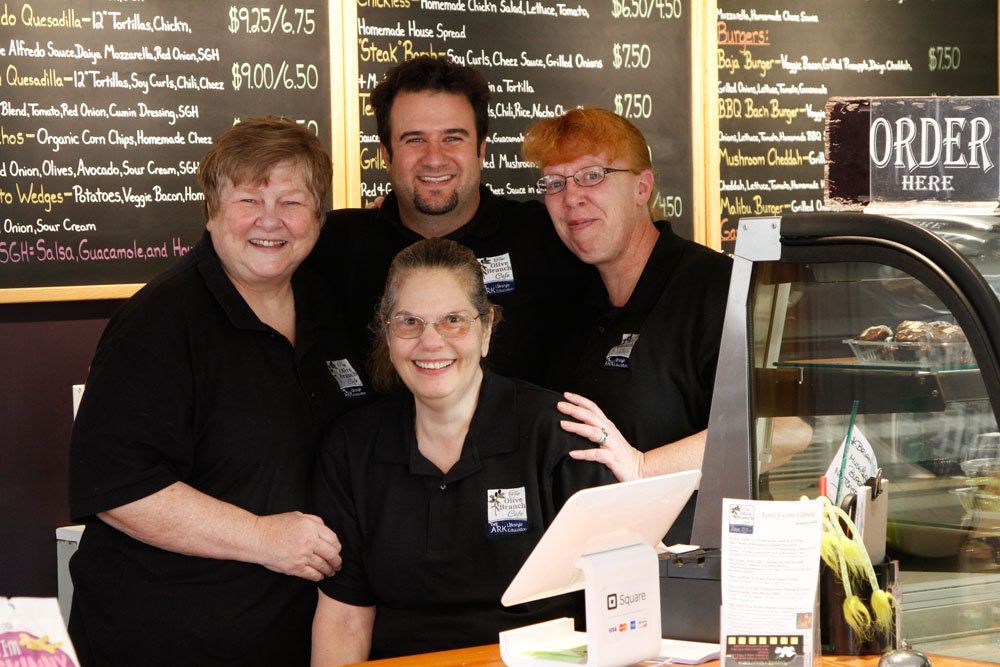 Transformed Pizza Hut
The Olive Branch opened in 2013 in a former Pizza Hut restaurant in the city of Lewiston. Inspired by the "beehive" of community service activity envisioned by Adventist Church cofounder Ellen White, a group of volunteers led by Rick Kuntz, then-evangelist for the Northern New England Conference, decided to establish the 55-seat cafe and a community center known as The Ark at the site.
"The restaurant, the Olive Branch Café, is meant to anchor and support the outreach activities of The Ark," Christiansen said. "It is meant to generate sufficient revenue to support the community outreach activities of The Ark and to be an entry point for community contact, leading interested people on to health seminars and to the church plant that operates out of the building."
The café has received a warm reception in the Lewiston/Auburn area, which is the fastest-growing urban center in Maine and the most post-Christian city in the United States, Christiansen said, citing 2017 research by the respected Barna Group.
It also has been featured in the Portland Press Herald, the main newspaper in Maine, and The Washington Post in the U.S. capital.
Diners have offered overwhelmingly positive reviews on Happy Cow.
"Its hard enough to find a restaurant with vegan options around, so it really made me happy to find this gem," wrote a reviewer in March 2017. "Food is very simple and delicious. … There are a lot of religious things around the store, but in no way are they pushed on you by the employees, which by the way are super friendly!"
Another reviewer said: "My father and I stopped here recently during a motorcycling trip. We had been meaning to stop in for a long time, and boy, we should have stopped in sooner! The volunteers that run this restaurant are kind, caring folks. (I believe it is connected with 7th Day Adventist Church? But nothing religious is pushed on their patrons — there are little brochures at the tables; that's it). The food is delicious."
But with a small budget, the café was only able to operate for limited hours.
Read about the Happy Hand shops in Denmark
Applying for a Grant
Then Kuntz and Tony Cuffori, manager of the café and The Ark ministry, heard about Global Mission grants from E. Douglas Venn, director of Global Mission's Urban Centers, at a church-planting conference in Florida in February 2017.
Kuntz and Cuffori submitted a formal grant application in April and, at Adventist Mission's request, followed it up with a business plan in August. The Mission Board approved the final proposal on Dec. 6 and set aside an annual grant of $50,000 for the next three years.
"The process was not quick, but it was carefully designed to make sure applicants were very serious, very organized, and very professional about their preparations and planning," Christiansen said.
He noted that Global Mission funding often goes toward new urban centers of influence but said the café "successfully argued that their risk of failure as a going concern was much, much lower than a start-up."
Adventist Mission has approved a total of $4.2 million for Global Mission projects in 2017 and plans to distribute a similar amount in 2018. The funds come from donations and the Annual Sacrifice Offering.
Before this month's outlay, Adventist Mission signed off on $1 million to open 322 churches around the world and to establish urban centers of influence in Myanmar and the U.S. city of Houston.
"Centers of influence provide a wonderful urban launching pad for putting Christ's method of ministry into practice," said Gary Krause, director of Adventist Mission. "They help the church connect to the community and serve it in wholistic ways."
Krause has a soft spot for projects that serve immigrants and refugees but said perhaps his favorite are Happy Hand thrift stores in Denmark. Happy Hand, opened in 2012, offers not only second-hand items for sale but also refreshments, free concerts, seminars, Bible studies, and warm clothing and food for the homeless.
"In this highly secularized country, these centers are helping the church connect with the physical and spiritual needs of urban-dwellers — rich and poor — in a powerful way," Krause said.
Twenty-one urban centers of influence received grants from Adventist Mission in 2017, while 24 were funded in 2016, said Jeff Scoggins, planning director for Adventist Mission.
"However, most of those are overlapping between the two years," he said. "In other words, some of them were new, while most we were funding second or third year of projects started earlier."
Adventist Mission has funded 61 urban centers of influence since it began extending grants in 2012. All have the specific purpose of planting new churches, Scoggins said.