​Your 10 Favorite Mission Stories in 2018
A list of the most popular Adventist Mission stories for the year.
Here's a look back at the 10 most popular stories that were published on Adventist Mission's website in 2018.
The stories are ranked by the number of reader views and listed in descending order, with No. 1 being the most popular. Click on the headline (in orange) to read the full story.
All the villagers raced to the airstrip, singing and dancing, when mission pilot Gary Roberts landed at Suminka, a remote village in the Indonesian province of Papua.
It had taken the villagers 10 years to cut down the trees by hand to clear the way for an airstrip at their mountainous village, and Gary's mission plane was the first to land. This was a big event.
As Gary stepped out of the plane, the crowd grew silent. The singing and dancing stopped.
"Is this a Seventh-day Adventist plane?" a man asked.
Gary was surprised. He hadn't expected people in Suminka, a village previously accessible only by a long trek by foot, to have heard about the Adventist Church.
The villagers soon told him that many of them were keeping the Sabbath. The reason, they said, was because of a Seventh-day Adventist dog.
2. Congolese Pastor Attacked With Acid for Joining Adventist Church
Banza Mwela, the pastor of a Sunday-keeping church in the Democratic Republic of Congo, nearly died when his wife and son doused him with skin-burning acid on the day of his baptism into the Seventh-day Adventist Church.
But Banza, his face permanently disfigured, clung to life and today is an Adventist pastor preaching a powerful testimony that draws crowds to Jesus.
"I praise the Lord that I belong to the Seventh-day Adventist family and that the devil has been defeated," Banza said.
3. Adventist Father Refused Funeral in Fiji
Nobody wanted to help Kositela Tito when his father died.
"You can't have a church funeral for him," said one.
"Just go bury him," said another.
The people in the remote Fijian village of Nakavika turned their backs on Tito's father because he had become a Seventh-day Adventist. The other villagers, including Tito, belonged to another Christian denomination.
4. Fijian Girl Gives School Fees to Classmate
Father pulled out several banknotes as 15-year-old Litea Cavalevu ate her breakfast of oatmeal and bread.
"Here," he said, handing her 80 Fijian dollars, or about U.S.$40. "This is for the school fees that you need to pay for the year. Make sure that you pay your teacher and bring back the receipt when you return in the afternoon."
The new school year had just begun for Litea in Fiji. Tuition was free at her Seventh-day Adventist school, just as it was at all schools in Fiji, but students needed to make a special payment for field trips and other expenses. Students who didn't pay the fee could still go to school, but they would miss out on the fun of going on field trips to World War II monuments and to the historic sites where missionaries first arrived in Fiji.
Litea took the money.
"I'll give you the receipt after school," she promised.
5. After Adventist Appeal, Uganda's President Moves to Abolish Sabbath Exams
Responding to an appeal by the Seventh-day Adventist Church president to abolish Saturday exams, Uganda's leader announced that he would take steps to accommodate the convictions of Adventist students — and also those of Sunday-keeping Christians and Muslims.
Ugandan President Yoweri Museveni tweeted the announcement on Feb. 17, a day after hosting church leader Ted N.C. Wilson for an official visit-turned-Bible study at his state residence in Entebbe outside the capital, Kampala.
"I thank Pastor Wilson for visiting Uganda," Museveni wrote on Twitter. "I commend members of the SDA community in Uganda for their discipline. We shall consider the church's request about our education institutions not conducting examinations on Saturday."
He added: "We shall also look at the interests of other Christian denominations that need to be freed from school examinations on Sundays and also for the Muslim community on Fridays."
6. Mysterious Guards in White Robes
Several parents were angry that the Pathfinders had come to the East Timor village and had threatened to beat up the truck owner. So, he didn't want to help anymore.
Pastor Inaciu da Kostagathered the Pathfinders around him.
"Let's pray and go back by foot," he said. "It will take us about seven hours."
As he spoke, a group of scowling villagers carrying sticks approached the Pathfinders. Hearing that they planned to walk to Dili, a villager snarled, "No, you cannot go!"
Another villager pointed his stick at Pastor Inaciu. "Let your leader come and meet with us," he said.
7. Adventists Urged to Be Faithful Like Church Pioneers
Seventh-day Adventists should emulate the church's pioneers by being faithful and proclaiming the "good report" of Jesus' soon return despite any obstacles, Adventist Church president Ted N.C. Wilson said at the church's birthplace in Battle Creek, Michigan.
Wilson, speaking in his annual pastoral address to church leaders, also warned against influences from inside and outside the church that seek "to derail and destabilize" its mission.
The audience — comprised largely of world church leaders gathered for Annual Council, a yearly church business meeting — joined Wilson in celebrating the joy of soul-winning with the onstage baptism of a businessman from Mexico.
"My message today is for every local church member around the world, including us here in Battle Creek since we are all local members somewhere," Wilson said in his Oct. 13 sermon, "The Past With a Future — Looking Back to Move Forward Led by God," in the Battle Creek Tabernacle.
8. Sunday Pastor Attacks Sabbath-Keeping Daughter
The teenager found all her clothes dumped in front of her home when she returned from church on Sabbath. Her father, a Sunday church pastor, had cleaned out her room and locked the door.
This was not the first time that Otilia Antonio Passiiel had found herself locked out of her home in Nampula, Mozambique's third-largest city with a population of about half a million.
Otilia had joined the Seventh-day Adventist Church while living with an older sister south of the city in the Zambezia province. Adventist classmates had shared the Bible truth about the seventh-day Sabbath with Otilia, and she had gotten baptized. When her parents, both pastors, found out, they were furious and forbade her from leaving their church. When her sister saw the unfolding conflict, she told Otilia to return to her parents in Nampula.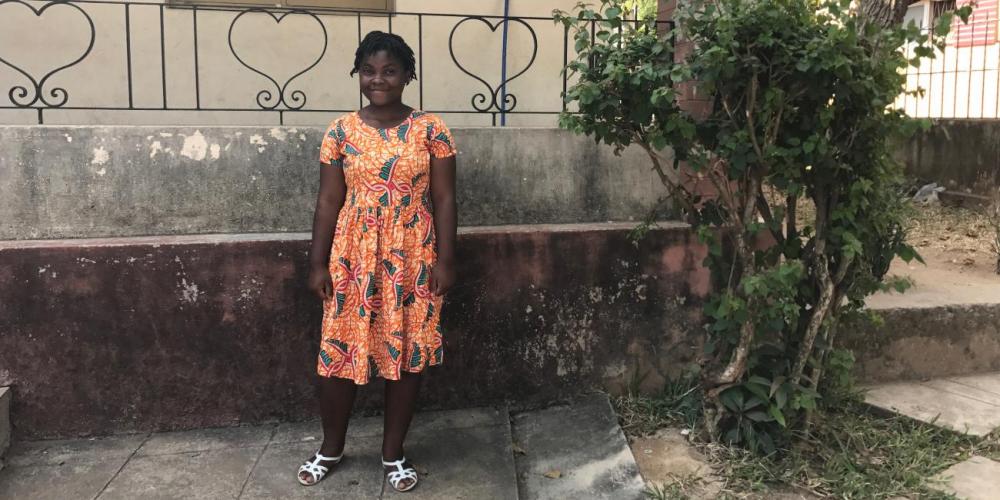 9. Adventist Escapes Fiery Plane Crash in Congo
A Seventh-day Adventist miraculously escaped a fiery airplane crash as he sought to visit a church that he planted in a remote region of the Democratic Republic of Congo.
Pius Kabadi Tshiombe, a 53-year-old Congolese lay evangelist, and the pilot jumped out of the An-2 single-engine biplane moments before it hit the ground, Tshiombe's wife said.
The other five people on the flight perished.
"He survived with only his cellphone," said Nicole Ntumba Kabadi, who received confirmation about her husband's condition via WhatsApp photographs sent by a friend shortly after the crash. "He had a head wound and leg wound, but no broken bones."
10. 25 Years of Frontline Mission
It's been 25 years since Global Mission began its front-line mission service, planting new groups of believers in unentered geographical areas and among new people groups of the world. So much has happened during this time. Please join us in a stroll down memory lane as we celebrate how God has blessed Global Mission through the years.
---