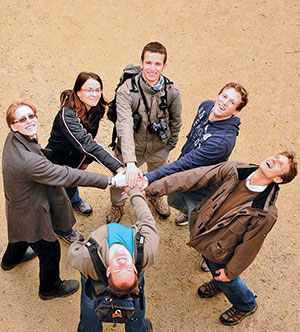 Czech Republic |
July 13
INRI Road, Jesus' Way
INRI Road members
[Invite two young adults to share this mission report.]
Narrator: The large room buzzed with conversation as university students relaxed on couches, around a table, and on folding chairs. Laughter burst from one group. 
A young man began strumming chords on his guitar while others still entered. Someone gave out song sheets, and young voices joined in singing favorite choruses. Dressed in sweaters and jeans, the young people looked more like a study group than worshippers.
"Welcome to INRI Road [in-ree, "Jesus' Way"]," the leader, a university student, said. "To ease your concerns, this is not a church." A gentle chuckle rippled through the group. "We are friends who meet for different activities throughout the week. Michael leads a group discussion on topics of interest to you. Kara has an English-language discussion group on Thursdays. Daniel here," he said, nudging the young man next to him, "is the go-to guy for Sunday sports. And Peter is our music man. You're welcome to join any of the activities posted in the kitchen.
"Tonight Jacob will share the story of how he came to INRI and what it means to him."
Finding God Again
Jacob: I came from a Christian home. Although my mother assured me that Jesus was always with me, I often felt alone. In school the kids teased me, and I felt that I didn't fit in. 
Church became a time to be with my friends, not with God. I didn't attend regularly, and gradually I stopped going altogether.  
I started drinking. One night I went to a bar and got drunk. A man started a fight and knocked me to the floor. He raised his foot to kick me in the head, but another guy grabbed him, and I escaped.  
A few days later Mom asked me if something had happened the previous Friday night. She said that my aunt had felt impressed that I was in danger and that she must pray. Later I learned that the man who had hit me had kicked another man in the head and killed him. That could have been me, I thought.  
A Second Chance 
I wanted to change my life. I went back to church and felt good about being there. But the feeling didn't last. I was bouncing between God and the world. My failure to clean up my act depressed me, but then I remembered that Mom and my aunt were praying for me.
Then a friend invited me to a youth meeting at INRI Road. I went because I knew some young people there. That night the speaker told his life's story, but it could have been mine. I felt God whisper to me, but my life of drinking and partying was pulling me too. 
Another friend invited me to attend an INRI Road weekend retreat that sounded like fun. So I went. But I had a tough time concentrating, because I craved nicotine. After fighting the craving for several hours, I slipped outside to smoke. 
Gentle Invitation
Immediately I felt guilty. On my way back to the meeting I met a friend who asked if I was OK. I poured out my problems to her. She listened without judging, and then she said, "You can start again. Jesus will walk with you." At that moment I saw Jesus as my loving Savior. We prayed together, and then we returned to the meeting. 
As I gave God my addictions, He took them away. I couldn't have done it on my own. 
I love my new life with Jesus. It's not a happy little children's story, but a real-life relationship with Jesus. 
God brought me back to Him through the fellowship of INRI Road and young people who are here to discover for themselves that Jesus is real and that He cares. Now I fill my life with God-centered activities, inviting other university students to join INRI Road, the program that has changed my life. 
Narrator: The room remained quiet as Jacob's story sank in. Many could relate to what they'd just heard.
One of the youth prayed a simple closing prayer, and the young people mingled, chatting with friends and thanking Jacob for sharing his story. Some wiped tears from their eyes, for they too knew the feeling of failure, and some were looking for hope in Jesus.
INRI Road is an Adventist program that seeks to make a welcome home for Adventist and non-Adventist youth, no matter where they are in their walk with God. Part of this quarter's Thirteenth Sabbath Offering will help start more INRI Road programs at universities across the Czech Republic and Slovakia. Thank you for helping the youth of Europe see Jesus in a new way.