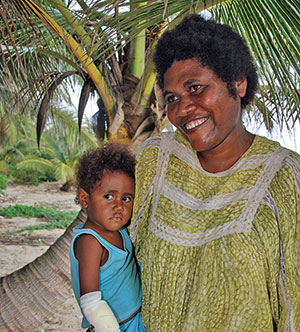 Papua New Guinea |
January 5
An Urgent Need
Kathleen and her husband, Sasa, enjoyed living in the remote village in south-central Papua New Guinea, where Kathleen taught school. But when Sasa began having trouble with asthma, the couple had to walk for hours on the muddy path to the nearest government clinic to get an inhaler to ease Sasa's symptoms.
Desperate Hike for Help
One night Sasa awoke wheezing and gasping for breath. Sasa's inhaler was empty, and Kathleen feared Sasa would die before they could get medical help. At first light the couple set out along the rugged path toward the clinic. They finally reached the clinic late that night, but it was closed. Neighbors told them that the nurse had gone to the provincial capital to collect his pay.
Kathleen feared that the nurse might not return for several days. And even if he returned quickly, if he didn't have an inhaler Sasa could still die. Their only hope was to journey on toward the hospital in the capital.
They hiked to the only road in the region, hoping to find a public minibus to take them to the hospital, but they were too late. There would be no minibus until morning.
The weary couple came to a small village. They didn't know anyone there, but they stopped a woman and asked if any Seventh-day Adventists lived in the village. She led them to a house where a kind husband and wife welcomed them, fed them, and offered them a place to sleep. Kathleen and Sasa quickly fell into an exhausted sleep. Later Kathleen awoke to a voice. The wife was praying for them. Kathleen praised God for watching out for them, and she dozed off again.
In the morning the couple gave Kathleen and Sasa some food, and her husband led them to where they could catch a public minibus. An hour later one approached and stopped for the couple. When the driver learned how sick Sasa was, he drove them straight to the hospital in the capital city.
Doctors diagnosed Sasa with severe asthma, pneumonia, and malaria. When Sasa was discharged, the couple made their way back to the village.
Critical Caring
Life in remote regions of Papua New Guinea is uncertain. Illnesses that we might consider inconvenient can be life-threatening without medical help. Many people in the isolated mountain villages must journey days to reach medical treatment. Some don't make it.
On the westernmost frontier, the village of Tumolbil sits on the border between Irian Jaya and Papua New Guinea. Jack grew up in the village, but left to study when he was a young man. While studying he became an Adventist. He returned to his village to share his faith. He was the only Adventist living there. Some people listened to him, but they had never heard of Adventists and were reluctant to commit to a church they hadn't heard of before.
Then fighting broke out along the border, and the government teachers and nurse fled, leaving the locals to fend for themselves. Malaria, tuberculosis, and pneumonia broke out, killing many.
Jack took a short medical training course and did his best to help his people, but they needed a trained nurse and a better building for a clinic. Recently the clinic has been rebuilt as part of a division-wide effort of the Adventist Church to upgrade medical care in such isolated regions.
Today an Adventist nurse ministers to the villagers. And Jack has turned his attention to sharing his faith. Because the people have seen that Adventists are people who care, they are willing to listen to God's message of love. Today more than 200 villagers in Tumolbil and the surrounding area have accepted Jesus as their Savior and joined the Adventist Church.
Come and Help Us
But many more isolated regions are crying, "Come, and help us!" They still must hike for hours or days over some of the most rugged terrain in the world to carry their sick and wounded to receive medical help.
Part of this quarter's Thirteenth Sabbath Offering will help provide at least four medical outposts in the most isolated areas of Papua New Guinea. The clinics will be stocked with the equipment the trained nurses need to minister to the needs of the people. And when the people know the Adventists care, they will listen to God's message of love. Their future is, quite literally, in our hands. Let's care as Jesus does and give sacrificially so that they can have life, both physical and spiritual.