July 5, 2014
After overcoming some challenging visa problems, Anna arrived in New York on January 24, 2013, and immediately joined the other 13 young adults representing all divisions and attached fields of the Seventh-day Adventist Church.
Read Story
July 12, 2014
When I was in New York, I was dreaming about coming back home and doing something really special," Anna recalled. "I was so inspired in New York, and began praying about what could be done in ESD."
Read Story
July 19, 2014
Andre wondered what could be so special about this church that would make Pavel choose to go there rather than to the air show.
Read Story
July 26, 2014
"My son," she asked, looking straight into my eyes, "would you be willing to be hungry for two weeks, but have a Bible instead?" Without flinching I told her, "Yes."
Read Story
August 2, 2014
Vladimir grew up alone with his mother. At the age of 13 he was willing to live for two weeks without food so they could afford to buy a Bible.
Read Story
August 9, 2014
Although his grandfather was an imam, and many other relatives were devout in their faith, Igor himself had a very secular childhood. Excelling in sports, he soon became a leader, respected—and feared—by the other boys on the street.
Read Story
August 16, 2014
People who wanted to ruin this company recognized that Vasily was a key player in winning the big contracts, and because he was an obstacle to their goal, they had tried to kill him—twice.
Read Story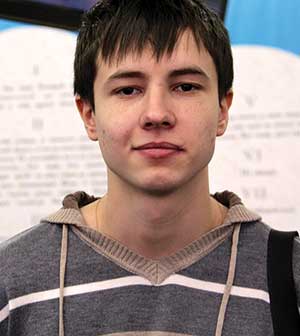 August 23, 2014
"All of my friends know about my faith but at times it is difficult to share, because some people don't want to listen. And it can be especially difficult here in Tatarstan to tell people about Jesus Christ."
Read Story
August 30, 2014
"During my first visit to an Adventist church," recalled Gahida, "the sermon was about the Samaritan woman in John 4. I knew it was me—I was like that Samaritan woman who was searching for something better.
Read Story
September 6, 2014
I tried everything to quit smoking—down to one cigarette a day, eating candies, chewing gum . . . but nothing worked. Finally I prayed honestly to God, asking Him, "Lord, please take it away from me." And in a miraculous way He did.
Read Story
September 13, 2014
When I was planning to be baptized, my sisters told me that I should ask my parents for forgiveness. Both of my parents were crying with happiness. And that's when I realized that you can have all sorts of victories with God.
Read Story
September 20, 2014
So now I had two proposals. I seriously considered accepting one of these offers, even though it would mean renouncing my faith in God and becoming a Communist.
Read Story
September 27, 2014
The Euro-Asia Division includes the countries of Afghanistan, Armenia, Azerbaijan, Belarus, Georgia, Kazakhstan, Kyrgyzstan, Moldova, Russia, Tajikistan, Turkmenistan, Ukraine, and Uzbekistan. Most of these countries were part of the former Soviet Union, which for 70 years restricted religious freedom.
Read Story