Children's
MAGAZINE
4th Quarter 2014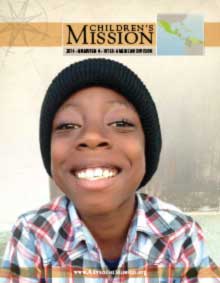 Leader's Resources
Following are sources of information that have proved helpful in preparing programs for Children's Mission. 
PLANNING AHEAD FOR 2015—The following world divisions will be featured in 2015: 1st Quarter—North American Division (NAD)2nd Quarter—Northern Asia-Pacific Division (NSD)3rd Quarter—Southern Asia-Pacific Division (SSD)4th Quarter—Southern Africa-Indian Ocean Division (SID)
For more information on the culture and history of Belize and Jamaica, look in the travel section of a local library or online. Visit the Belizean embassy's "Kids Zone" page at www. embassyofbelize.org/kidszone.html for helpful information and material. For information about Jamaica, visit their embassy's website at www.embassyofjamaica.org and choose the pull-down menu, "About Jamaica." Other helpful websites: www.activityvillage.co.uk/belize and www.activityvillage.co.uk/jamaica.
Visit our website for additional photos, recipes, language pages, and other activities that you can download and print to make mission more fun for children. Go to www.AdventistMission.org. 
Adventist Mission DVD is a free video that features stories from the featured countries as well as the worldwide mission of the Adventist Church. Ask your Sabbath School superintendent to make you a copy of it. Or go online at www.AdventistMission.org to download one of the DVD programs.  
MISCELLANEOUS
Embassies and Tourism Offices sometimes can provide interesting information on their country. In North America, contact:
The Embassy of Belize, 2535 Massachusetts Avenue, NW, Washington, D.C. 20008.
Phone: 202-332-9636; website: www.embassyofbelize.org
The Embassy of Jamaica, 1520 New Hampshire Avenue, NW, Washington D.C. 20036. Phone: 202-452-0660; e-mail: firstsec@jamaicaembassy.org; websites: www.embassyofjamaica.org